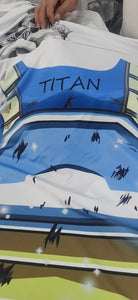 THE FIRST CUSTOMIZATION REQUEST FROM MEXICO COSFITNESS FANS
Hello, guys, how are you?
Last week, we received a request from a fans about customizing the Vegeta SSB Limit Breaker tank top because we only have the maximum size 2XL.
We redesigned the maximum size for the fans from 2XL to 4XL, and the most important thing is we can let him add some letters or words on his own customization shirt. You guys can view the image we attached. However, this is not the end and the final version we design for him, please follow up.
Thanks so much.
-----------------------------------------------------------------------------------------------------------
LA PRIMERA SOLICITUD DE PERSONALIZACIÓN DE MEXICO COSFITNESS FANS

¿Hola chicos, como estan?

La semana pasada, recibimos una solicitud de un fanático sobre la personalización de la camiseta sin mangas Vegeta SSB Limit Breaker porque solo tenemos el tamaño máximo 2XL. Rediseñamos el tamaño máximo para los fanáticos de 2XL a 4XL, y lo más importante es que podemos dejar que agregue algunas letras o palabras en su propia camiseta personalizada. Ustedes pueden ver la imagen que adjuntamos. Sin embargo, este no es el final y la versión final que diseñamos para él, haga un seguimiento.
Muchas gracias.
---