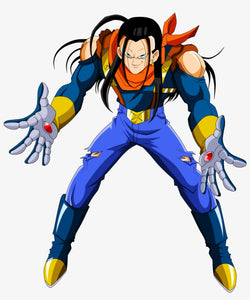 Are You Also Interested in Super 17 Saga Shirt?
Dragon Ball GT Super 17 Android Saga Workout Short Sleeve T-shirt Customization

Hey, guys. How are you?

We have founded a WhatsApp group for our Mercado Libre Chile fans, and we are talking about the customization for Super No. 17 Arc(Pro Series) of DBGT this time, some fans want to the short sleeve, and some want the long sleeve T-shirt, so we have not made the final decision. Yea, also because of the cost, we need to count.

Therefore, we think we should introduce our customization service for anime gym shirts.

Exactly, we have two options you guys can make a choice. One is for the design which we already have, and it costs USD29(We are promoting it now). The other will cost USD 49-59 for the designs we have never had yet. LIke this project we mentioned above, it would be the second option. Then we will depend on the complication of the design to calculate the final cost.

Are you also interested in customizing your own anime hero gym shirt?
-----------------------------------------------------------------------------------------------------------
Hola, chicos. ¿Cómo estás?

Hemos fundado un grupo de WhatsApp para nuestros fanáticos de Mercado Libre Chile, y estamos hablando de la personalización para Super No. 17 Arc (Pro Series) de DBGT esta vez, algunos fanáticos quieren la camiseta de manga corta y algunos quieren la camiseta de manga larga. -camiseta, por lo que no hemos tomado la decisión final. Sí, también por el costo, necesitamos contar.

Por lo tanto, creemos que deberíamos presentar nuestro servicio de personalización para camisetas de gimnasia de anime.

Exactamente, tenemos dos opciones que ustedes pueden elegir. Uno es para el diseño que ya tenemos, y cuesta USD29 (lo estamos promocionando ahora). El otro costará USD 49-59 por los diseños que aún no hemos tenido. Al igual que este proyecto que mencionamos anteriormente, sería la segunda opción. Luego dependeremos de la complicación del diseño para calcular el coste final.

¿También estás interesado en personalizar tu propia camiseta de gimnasio de anime hero?
---